What is a Pressure Sensor?
A Pressure Sensor is a transducer that converts an input mechanical Pressure into an electrical output signal. Pressure Sensors manufactured in US by FUTEK Advanced Sensor Technology, a leading manufacturer producing a huge selection of Pressure Transducers, utilizing one of the most advanced technologies in the Sensor Industry: Metal foil strain gauge technology.
How to select the right Pressure Transducer for your application?
Pressure Transducers are used in many applications from gas chromatography (links) to wind tunnel testing to industrial process monitoring. With the wide array of full bridge, strain gauge pressure sensors available, we're often asked "What pressure transducer do I need for my application?" Here are a few questions that will help to narrow down your choices:
Step 1:

"What is the maximum pressure you are expecting to measure?

"

When selecting a pressure transducer sensor, you need to account for the maximum pressure your system will experience without overloading the sensor.

Step 2: "What is your desired pressure reference?"

Gauge, absolute, and vacuum are three of the most common pressure references. These define whether the sensor's zero is set at ambient pressure or absolute vacuum. Together with your maximum capacity, the pressure reference defines the pressure range you can measure.

Step 3: "How will you mount/thread the pressure transducer sensor?"

sensors can come with either male or female threads for mating with your system. Female threaded pressure sensors can be threaded onto a stud or onto a pressure line. Male threaded pressure sensors can be threaded directly into a pressure cavity.

Step 4: "Do you have any electrical output requirements?"

The most common outputs are mV/V, voltage, and current. Pressure measuring instruments are one of the most common sensors to come pre-amplified. If you are replacing an existing industrial sensor or designing a new system, make note of the type of output it generates.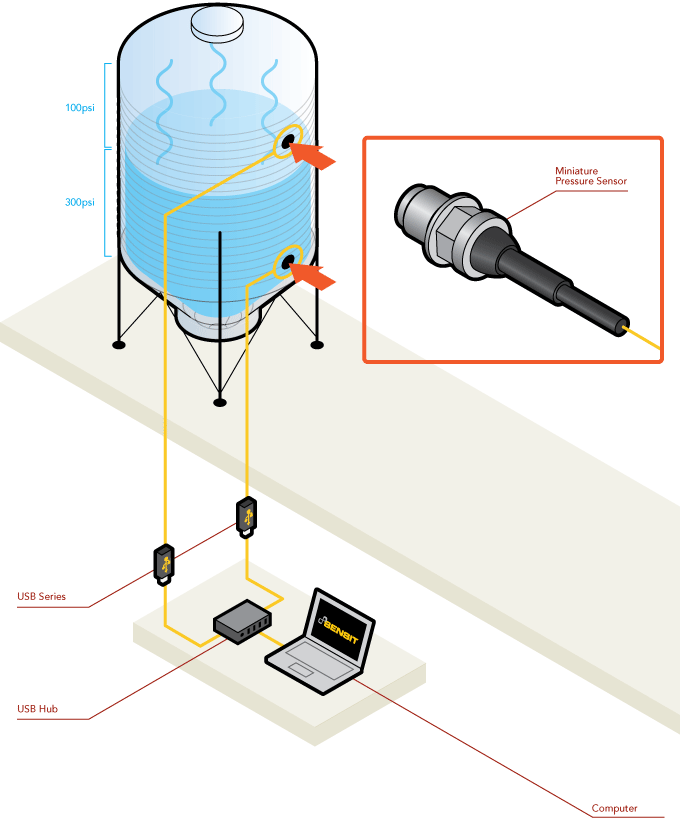 What are the Pressure Sensors types?
Here's an overview of the most common pressure transducer types:
Flush Mount Sensors

– Also known as flush diaphragm or flush tip pressure sensors, these sensors feature a flat pressure sensing element. When they are mounted into flat walls, they create a smooth surface. These sensors possess high accuracy and high natural frequency allowing them to accurately adapt to changing conditions

.
Female Port Sensors

– Also known as female thread pressure sensors, these pressure transducer sensors feature a female threaded pressure port. This setup allows air lines and static pressure ports to be threaded directly into the sensor. This is great when size constraints prevent direct mounting of the sensor.

Male Port Sensors

– Also known as industrial or male threaded port pressure sensors and transducers, these sensors feature a male threaded pressure port and are one of the most common types of pressure sensors. The design allows them to be threaded directly into pipes, tanks, etc. This makes them advantageous in monitoring pipe or tank fluids or gases.